When:
2023-02-06T00:00:00-05:00
2023-02-07T00:00:00-05:00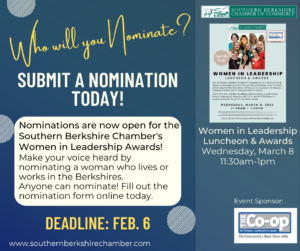 SBCC presents the Women In Leadership Luncheon & Awards! Nominate a woman in leadership for either the Mentor Leader or Rising Star category. The event on March 8th is a chance to recognize some of the women who make Berkshire County a great place to live and work. Anyone can make a nomination, and you can nominate any woman who lives or works in Berkshire County. The deadline is Monday, February 6th.
For the nomination form and instructions, please click here.