Monterey, Mass. — On Saturday, November 30, the annual Monterey Makers Holiday Market will take place from 10 a.m. – 4 p.m. at the Monterey Community Center, featuring hand-crafted items by local artisans and locally produced food products from Gould Farm.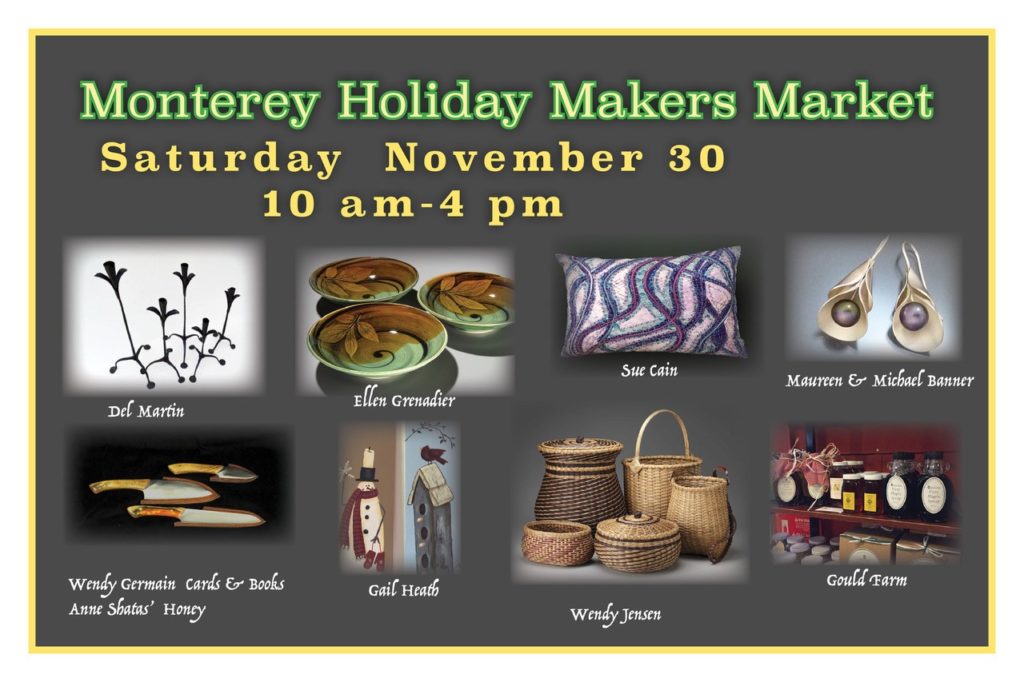 The Market offers visitors an opportunity to meet the Monterey artists and browse unique, handmade gifts from some of the Berkshires' acclaimed artisans, including:
Hand-constructed ironwork including kitchen cutlery, hardware, candle stands, fireplace andirons from Knox Trail Forge blacksmith Del Martin.
Nature-inspired tableware from Ellen Grenadier, whose new work incorporates her trade mark leaf designs with a satin matte white speckled glaze.
Cloisonné pendants and stunning silver earrings from internationally award-winning silversmith Maureen Banner.
Hand-woven baskets of rattan and homegrown willow, and woven wheat ornaments by Wendy Jensen.
Folk art objects, such as vintage repurposed ice skates, rolling pins, saws, shovels depicting New England and holiday scenes painted by Gail Heath.
Unique decorative pillows in a wide range of colors designed and stitched by fine fabric artist Sue Cain.
Berkshire Sting honey harvested by Annie Shatis from hives around Monterey — unfiltered, tasty and healthy.
Greeting cards for sale are created from paintings of scenes in Monterey by artist Frank D'Amato who passed this summer
Monterey: A Local History is a book curated, written and edited by a group of Monterey towns people, it tells stories along with vintage photographs of the town from 1847 when incorporated to 1997.
Most artists will take credit cards, however, some would appreciate cash or checks.