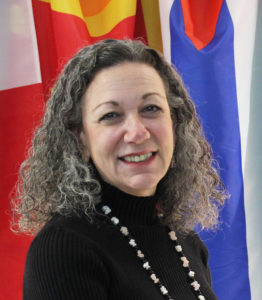 Pittsfield, Mass. – Berkshire Community College (BCC) is pleased to announce it has filled the position of Financial Literacy Coordinator and Coordinator of Student Activities and also welcomes Eleanore Velez, an Admissions Counselor and Coordinator of the Multicultural Center, back to the College. Tina Schettini, who previously worked as a Senior Special Projects Coordinator, has moved to the Student Engagement Center to work as the Coordinator of Student Activities.
Nancy Stoll has joined the College as the Financial Literacy Coordinator, a position based in the Student Financial Services office and funded by a grant to the College from Guardian Life Insurance Company of America. Stoll comes to the College with a rich and diverse background in both corporate and small business, as well as experience as an entrepreneur and in nonprofit organizations.
Stoll has been in the Berkshires for over 30 years, working and building partnerships throughout the county — including many with people here at the College. She is a strong supporter of community college education. She served as Vice President of Community Impact for the Berkshire United Way
from 2009-2017, and has been working as a Personal Coach focused on wellness, including financial wellness for the past year and a half.
Stoll earned a Bachelor of Business Administration degree in Marketing and Advertising from Baruch College of the City University of New York. She lives in Lenox with her husband.
About Berkshire Community College
Berkshire Community College (BCC) is a public, fully accredited, community college offering associate degree and certificate programs, as well as various other educational opportunities, primarily to the residents of Berkshire County and surrounding areas. The first community college in Massachusetts, BCC celebrated its 50th Anniversary in 2010. Visit BCC online at www.berkshirecc.edu.