Great Barrington, Mass. — Berkshire Waldorf School (formerly Great Barrington Rudolf Steiner School) welcomes Safina Alessandra as first grade class teacher for the 2020-21 school year. Ms. Alessandra was selected from a pool of applicants after an international search. At Berkshire Waldorf School, as in most Waldorf schools worldwide, grade school class teachers practice "looping," moving through the grade school curriculum with their classes, to build strong, long-term relationships for up to eight years.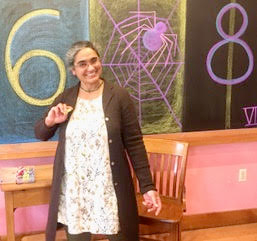 "We are so happy to welcome Safina Alessandra as teacher for the Class of 2028," said Berkshire Waldorf School Director Dr. Sue Das. "She is already a valued member of our teaching staff, working effectively with students at all grade levels, and brings many valuable resources and experiences to the class, including her love of diverse cultures. Ms. Alessandra's addition to the faculty as class teacher continues the school's exciting phase of growth, heading toward our fiftieth anniversary in 2021."
Ms. Alessandra earned her teaching certificate in Waldorf Education from the Alkion Center at Hawthorne Valley in Ghent, New York. She also holds a Bachelor of Science in Early Childhood and Childhood Education from the State University of New York at New Paltz, a Certificate in Childhood Education for Grades 1-6 from New York State and a Certificate in Therapeutic Education from Camphill Special Schools, Glenmoore, PA. Ms. Alessandra began her teaching career at Camphill Special Schools and worked as a substitute in both public and private schools, including John L. Edwards Primary School (Hudson, NY) and Hawthorne Valley Waldorf School. Since she joined Berkshire Waldorf School this year, Ms. Alessandra has served as a full time substitute teacher in fifth grade.
Ms. Alessandra is bilingual. She grew up in Zurich, Switzerland where she graduated from a K-12 Waldorf school, the Rudolf Steiner Schule. Ms. Alessandra lives in neighboring Columbia County, New York.
"While my long relationship to Waldorf pedagogy started in my toddler years, it was studying child development and spending time in a range of classroom settings during my New York state elementary certification process that helped me fully understand the unique gift of Waldorf education," Ms. Alessandra commented. "I look forward to guiding the class of 2028 through a curriculum that honors each child's physical, emotional and intellectual development with hands-on, artistic and academic learning. From my own Waldorf childhood, I bring resourcefulness, resilience and creativity. From my therapeutic background, I bring collaboration and a deep commitment to working with families to develop each student's full potential. The opportunity to share this journey with the incoming first grade, surrounded by my welcoming and dedicated colleagues at Berkshire Waldorf School, fills me with joy."
Berkshire Waldorf School is actively accepting student applications for Fall 2020, and will host Looking Ahead to Elementary School Tuesday, November 26, from 9-11am, where prospective families will learn more about the transition from early childhood to the grades, visit classes in progress, and meet Ms. Alessandra and current students. The meeting will take place in the grade school building at Berkshire Waldorf School, 35 West Plain Road, Great Barrington. The event is free, and parents or guardians can register by contacting Admissions Director Robyn Coe at admissions@gbrss.org or 413-528-4015 x.106.
Berkshire Waldorf School's rich curriculum integrates academic excellence with movement, music, outdoor learning and the arts. The school has been preparing students to achieve their full potential for almost 50 years, earning BWS "Best School in the Berkshires" accolades for seven consecutive years. Berkshire Waldorf School is one of over 1,000 International Waldorf schools, part of the fastest-growing independent school movement in the world, and offers sliding scale tuition and generous scholarships for accepted students based on need.