The Bushnell-Sage Library will offer a StoryWalk®, fabulous family friendly fun, for the community to enjoy from Wednesday July 8- Tuesday 28, 2020.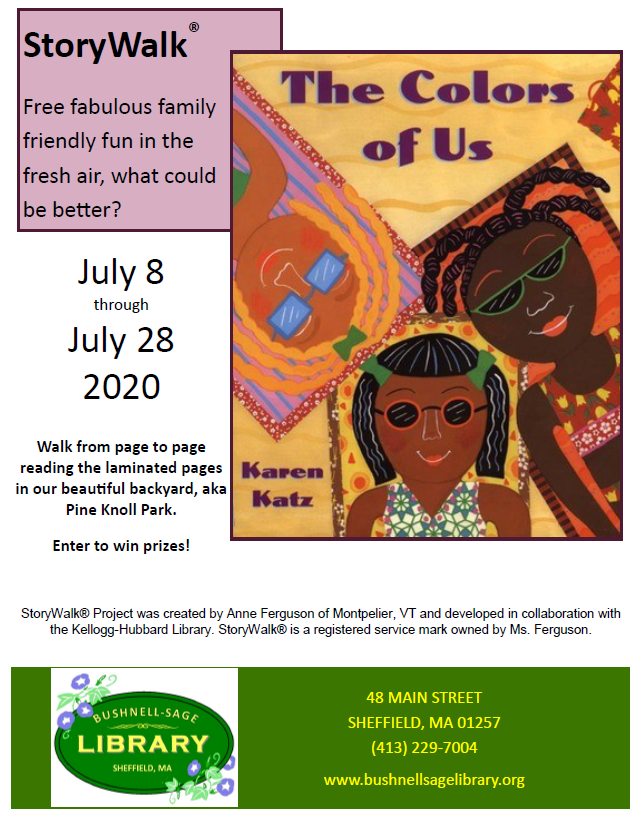 Laminated pages from the children's book "The Colors of Us," written and illustrated by Karen Katz, will be set up in the beautiful backyard of the Bushnell-Sage Library, aka Pine Knoll Park. So easy to follow Gov. Baker's order requiring face masks in public places, while staying physically distanced in the open air.
At the end of the StoryWalk® participants will have an opportunity to fill out a raffle ticket and put it in the envelope provided. Drop it into our drop box at the front of the library and you'll be entered to win prizes! These prizes are also going to be available to our Imagine Your Story Summer Reading Program participants. We've partnered with The Bookloft and SoCo Creamery to offer fabulous gift certificates!
The library's StoryWalk® was made possible by the Berkshire Atheneum and their Wee Read! Early Literacy Action Team, along with the Friends of the Bushnell-Sage Library.
The StoryWalk® Project was created by Anne Ferguson of Montpelier, Vt., and developed in collaboration with the Kellogg-Hubbard Library. StoryWalk® is a registered service mark owned by Ferguson.
"Imagine Your Story" is sponsored by Bushnell-Sage Library, the Massachusetts Library System, the Boston Bruins, and the Massachusetts Board of Library Commissioners.