Pittsfield, Mass. – August 20 — Carr Hardware, a family-owned business for over 90 years is proud to announce the launch of "Round-up for the Schools" to benefit the local Berkshire County school districts.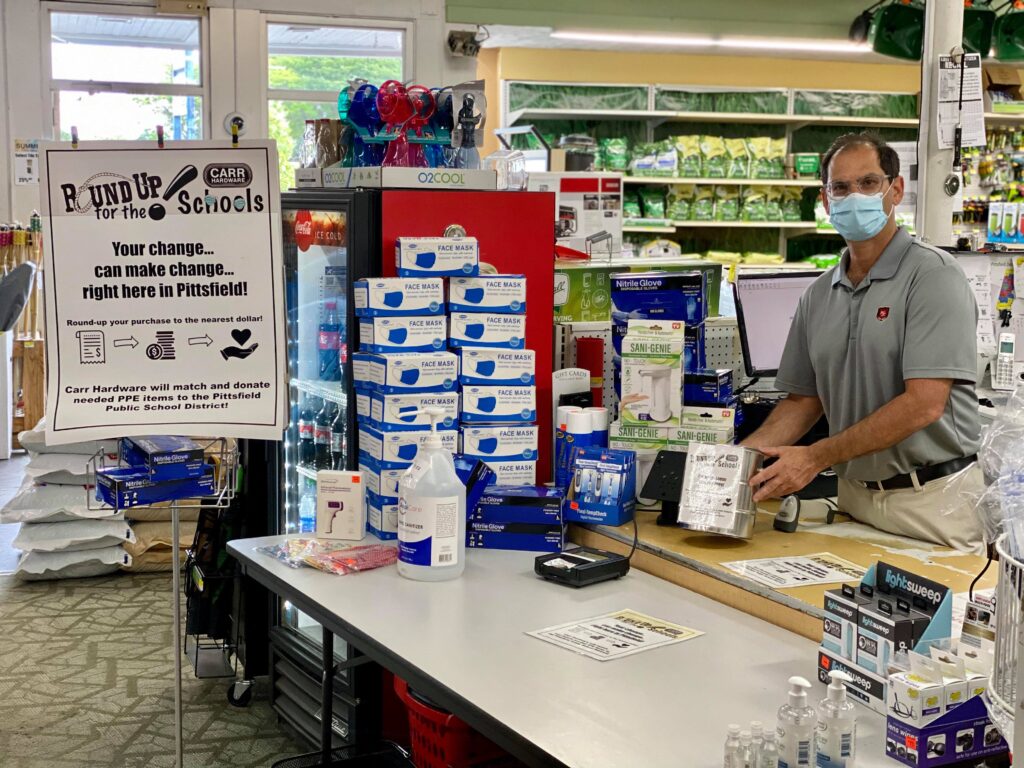 Carr Hardware is offering all their customers the option to round-up the final cost of their purchases to the nearest dollar. Carr Hardware will then match those donations and purchase needed personal protective equipment, such as masks, gloves, sanitizer and other needs they can secure, to donate to our local schools. Carr Hardware will also have collection jars stationed at all locations for customers to donate.
"If there is a chance at defeating this pandemic and have students return to school safely at some point, then it will be by using the CDC guidance for PPE, physical distancing, and education on personal hygiene practices. We are so thankful to our community partners at Carr Hardware for supporting our schools." stated North Adams Superintendent, Barbara Malkas.
President of Carr Hardware, Bart Raser stated "Helping the local community is critically important and has always been something that Carr Hardware and the Raser family has prioritized. Keeping our local kids safe is more important than ever. We have a long history of helping local kids in our community which is consistent with our vision as a local family owned business."
To date North Adams Public Schools, Lee Public Schools and Pittsfield Public Schools have agreed to partner with Carr Hardware with more rolling in.
Pittsfield Superintendent Jason McCandles commented, "The Pittsfield Public Schools are so grateful to our neighbors at Carr Hardware for supporting our schools in yet another way through the Round-Up Program. Carr Hardware has been there for the Pittsfield Public Schools and its students in so many ways over the decades, and we thank the Raser family and the whole Carr Hardware family for once again being there for children of Pittsfield."
"We appreciate the support the community gives us so supporting them back is essential. " Added Bart Raser.
The local community can stop into any Berkshire County Carr Hardware retail store to donate.
About Carr Hardware
Carr Hardware & Supply Company, Inc. was founded in 1928 by Sam Carr. In 1962, the Raser family purchased the business and continues to operate it today. Carr Hardware's ongoing success comes directly from our staff. Our professionals operate stores located in Pittsfield, Lee, Lenox, Great Barrington, North Adams and Springfield in Massachusetts and Avon and Enfield in Connecticut.
Carr Hardware stocks over 40,000 items for all commercial, institutional, industrial, government and homeowner needs. We have an extensive retail hardware selection. Carr Hardware was named the National Independent Small Business of The Year, 2017; National LED Retailer of the Year, 2016; featured on CBS Undercover Boss and has been voted Best of the Berkshires 23 years in a row.
More information about Carr Hardware is available at: www.carrhardware.com