Great Barrington, Mass. — July 13 — Yaman M. Kana, D.D.S, has joined the CHP dental staff.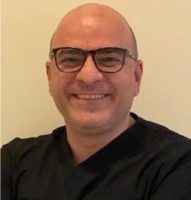 Dr. Kana will see patients at CHP Neighborhood Dental Center in Pittsfield and CHP North Adams Family Medical & Dental.
Kana received his dental education at Ovidius University of Constanta in Romania. He first practiced general dentistry in a private practice in Damascus, Syria and also in the Syrian military.
Kana then settled in Boston, working in both a private practice and at Boston University's Dental Health Center.
He later worked at the Brockton Neighborhood Health Center, then went on to practice dentistry at DotHouse Health Center in Dorchester, HealthFirst Family Care Center in Fall River and, most recently, Community Health Center of Franklin County.
Dr. Kana brings to CHP his fluency in Arabic, Romanian and French.
About CHP
Community Health Programs, Inc., is a healthcare network based in Great Barrington, Mass. serving more than 35,000 Berkshire region residents with whole-person, comprehensive medical and dental services at multiple practice locations. Through its Family Services program, CHP provides a range of support, parent education and resources to families. CHP accepts most forms of private and public health insurance and offers sliding fee scales for qualifying patients. CHP is a 501(c)(3) not-for-profit organization.