North Adams, Mass. – Apr. 30, 2019 – Erin Shea has been promoted to the Director of Quality Compliance at BFAIR (Berkshire Family And Individual Resources, Inc.). Erin holds a Bachelor's in Social Work from Our Lady of Elm's College and is a licensed Social Worker with over 15 years of progressive experience supporting elders and individuals with disabilities and their families. She began her career at United Cerebral Palsy of the Berkshires and as a Social Worker with Berkshire Health Care Systems. Over the past ten years, Erin has assumed a variety of roles at BFAIR, one as the Assistant Director of the Day Habilitation Center.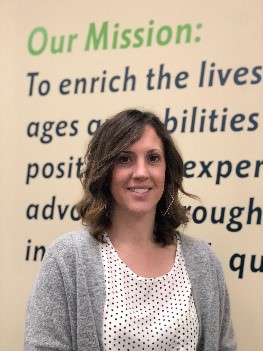 In 2014, the BFAIR Homecare program was developed and Erin was promoted to the Director of Homecare Services. As Director she was responsible overseeing the Elder Service of Berkshire County contract and the Acquired Brain Injury/Moving Forward Plan Community Living Waiver services through Massachusetts Rehabilitation Commission.
Most recently, Erin has been promoted to the Director of Quality Compliance ensuring BFAIR meets internal quality standards, requirements of external funding and regulatory sources, as well as consulting on Human Rights for the agency.
Theresa Gelinas, SVP of Day Services, says of Erin's promotion, "Erin is an integral part of the agency with respect to program development. The quality of her programs speaks to her ability to organize, promote and execute systems consistent with what we need with this new position."
About BFAIR
Since 1994, BFAIR providing adult family care (AFC), residential, in-home clinical services, employment and day services for adults and children with developmental disabilities, acquired brain injury, autism and homecare services for older adults.