Stockbridge, Mass. – April 18 – Sarah Eustis, CEO of Main Street Hospitality Group, announced the company's commitment to enhancing and intensifying its ongoing sustainable practices. Programs include a partnership with Clean the World, large size refillable room amenities at all hotels, elimination of plastic straws and drink stirrers, elimination of single use plastic bottles, and much more.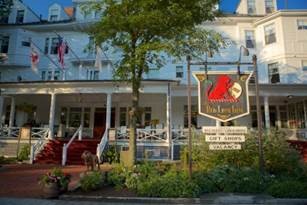 "The move is the most recent commitment to responsible 'earthkeeping' practices employed by the hotel management company," said Eustis. "Throughout the company and to a person, we are steadfast in our responsibility to smart, sustainable practices. From simple actions, like being mindful to turn off lights, to larger initiatives like replacing inefficient HVAC systems, we consistently seek alternative, ecologically sound practices that lighten our hotels' footprint while benefiting the communities we serve," she added.
In addition to increased energy-efficiencies in heating and lighting, a water-saving on-request linen laundry service, and rigorous recycling of plastic and metals, the company's best practices include a major food composting program in partnership with local farmers. The Red Lion Inn alone collects nearly 36 tons a year of compostable food and end products that are delivered to local composting farms for the benefit of a number of farmers in the region.
Also by the summer, all MSH properties will have phased out individual bath amenities products for large bottle amenity dispensers. Since 2018, MSH has partnered with Clean the World, a global hospitality recycling and waste reduction program, to collect used soaps and small bottled amenity products. These are shipped to be sanitized, reprocessed and reformed to create new soaps and hygiene kits to assist with disaster areas, homeless shelters, and impoverished communities worldwide.
"This somewhat small gesture of amenity repurposing aids in reducing bacteria and virus outbreaks due to the lack of sanitation, which is the number one cause of infant mortality," noted Eustis.
The company will continue to work with Clean the World to repurpose small face soaps once the bulk amenity dispensers are in place. Since the partnership began, MSH properties have contributed a combined 1,560 pounds of waste soap or more than 25,000 partial bars of soap that were converted into nearly 3,500 large bars of soap for distribution. At the same time, 686 pounds or nearly 11,000 bottles of amenity plastic were collected and reprocessed into 1,830 hygiene kits that have been distributed by Clean the World to those in need.
"In addition to taking measures within the four walls of our hotels, programs like composting and our Clean the World partnership bring benefits to our community and globally," said Eustis. "And we have so many ideas for the future under research and consideration, from irrigation systems that use collected rain water for gardening and installation of solar panels for hot water energy, among many others that will yield meaningful returns for our community, our guests, and our business."
Main Street Hospitality Group
Formed in 2013, Main Street Hospitality Group is a hotel management company founded originally at The Red Lion Inn in Stockbridge, Massachusetts, with a long tradition of excellence in preservation, innovation, sustainability and operations. As owners and operators of some of the most distinctive hotels in the Berkshires, the company's mission is to deliver unparalleled experiences for guests, employees and owners through an authentic approach to hospitality, service, and management. Main Street's management hotel portfolio includes The Red Lion Inn, Maple Glen at the Red Lion Inn, The Porches Inn at MASS MoCA, North Adams, MA, Hotel on North, Pittsfield, MA, The Briarcliff Motel, Great Barrington, MA, and Race Brook Lodge, Sheffield, an affiliated hotel. The company has expanded its management portfolio with the recent addition of the Hammetts Wharf hotel in Newport, RI, slated to open in 2020. For more information, please visit www.mainstreethospitalitygroup.com or call 413-298-1610.