Pittsfield, Mass. – Massachusetts Senator Edward J. Markey (D-Mass.), will serve as the keynote speaker at Berkshire Community College's (BCC) 59th Commencement Exercises to be held May 31 at Tanglewood in Lenox, Mass.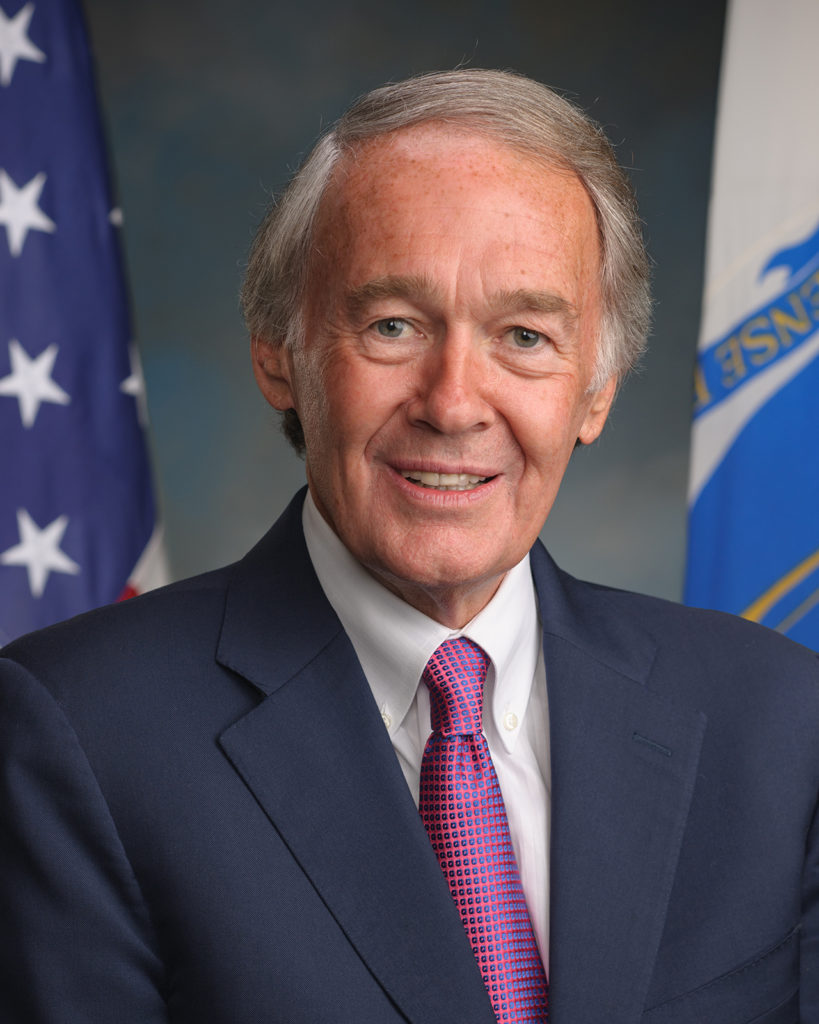 Senator Markey, a consumer champion and national leader on energy, environmental protection and telecommunications policy, has a prolific legislative record on major issues across the policy spectrum and a deep commitment to improving the lives of the people of Massachusetts and the country. Whether the issue is climate change, clean energy, safeguarding privacy, nuclear non-proliferation, investor protection or championing innovation initiatives, Senator Markey stands up for the priorities and values of Massachusetts.
"On behalf of the students, faculty, staff and Board of Trustees at Berkshire Community College, we are so thrilled to have Senator Ed Markey as our 2019 Commencement speaker," said Ellen Kennedy, President of BCC. "Markey visited our newly reimagined campus in the fall last year and got to tour the new buildings and classrooms and the Gene Dellea turf field with our student ambassadors, some of whom he will get to see again as they walk across the stage this year at Commencement."
Senator Markey has amassed an unparalleled record of energy and environmental legislative achievements, including:
He is the principal House author of the 2007 fuel economy law, which will increase fuel economy standards to 54.5 miles per gallon by 2025, the first increase in a generation;
He also is the author of the appliance efficiency act of 1987, which stopped the construction of hundreds of coal-fired plants;
He authored the law that established the Northeast Home Heating Oil Reserve, ensuring that New England families won't be left out in the cold when oil prices spike;
He is the author of the revolutionary law that requires electricity regulators to open up the wholesale electric power market for the first time;
In 2009, Senator Markey was the co-author of the landmark Waxman-Markey bill, the only comprehensive climate legislation ever to pass a chamber of Congress, and;
He is the current co-author with Representative Alexandria Ocasio-Cortez of the Green New Deal resolution, a bold 10-year mobilization that would create millions of good, high-wage jobs in the United States, provide unprecedented levels of prosperity and economic security for Americans, and counteract systemic injustices – all while addressing the existential challenge of climate change.
In the House of Representatives, then-Congressman Markey served as the Ranking Member of the Natural Resources Committee. From 2007 to 2010, he served as Chairman of the Select Committee on Energy Independence and Global Warming, a signature committee established by then-Speaker Nancy Pelosi. He also served on the Energy and Commerce Committee, where he was Chairman of the Subcommittee on Energy and the Environment.
A member of the Commerce, Science and Transportation Committee, Senator Markey is a national leader on telecommunications policy, technology and privacy. In the House, he served for 20 years as Chair or Ranking Member of the Subcommittee on Telecommunications and the Internet, where he was the principal author of many of the laws now governing our nation's telephone, broadcasting, cable television, wireless, and broadband communications systems.
He is the House author of the 1992 Cable Act, which increased choices for millions of consumers and enabled satellite-delivered programming to be more widely offered. He also authored the law in 1993 that moved over 200 MHz of spectrum from government to commercial use, creating the third, fourth, fifth, and sixth wireless phone companies. Senator Markey authored the landmark Telecommunications Act of 1996, ushering competition into the telecommunications marketplace and unleashing private sector investment.
Senator Markey has been instrumental in breaking up anti-consumer, anti-innovative monopolies in electricity, long-distance and local telephone service, cable television, and international satellite services. He also has been a key leader on providing privacy protections for personal information such as medical records, financial records, and on-line purchases and is the author of the landmark law that strengthens privacy protections for children.
From 2003 to 2009 in the House of Representatives, Senator Markey also served as a senior member of the Homeland Security Committee. In that capacity, he focused on closing gaps in our homeland defenses, particularly in the areas of nuclear, aviation, maritime, liquefied natural gas and chemical security.
Senator Markey also was the leader of the national Nuclear Freeze movement and has been a Congressional champion on nuclear nonproliferation.
Senator Markey was born in Malden, Massachusetts, on July 11, 1946. He attended Boston College (B.A., 1968) and Boston College Law School (J.D., 1972). He served in the U.S. Army Reserve and was elected to the Massachusetts State House where he served two terms representing Malden and Melrose. He is married to Dr. Susan Blumenthal.
BCC's 59th Commencement will be held Fri., May 31 at 4:30 p.m. at Tanglewood in Lenox. The event is open to the public. Tickets are not required.
About Berkshire Community College
Berkshire Community College (BCC) is a public, fully accredited, community college offering associate degree and certificate programs, as well as various other educational opportunities, primarily to the residents of Berkshire County and surrounding areas. Visit BCC online at www.berkshirecc.edu.