Stockbridge, Mass. — Celebrating the creative energy of the Berkshires, The Red Lion Inn announces its new Artist in Residence for the summer along with a collection of themed pop-up events for guests to gather and experience its dynamic porch life.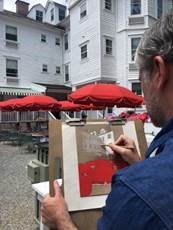 Artist John Clarke turns The Red Lion Inn into his studio and inspiration by creating work on and off-site throughout the summer until Labor Day on September 3. From oil paint and pastels to pencils and photography, Clarke creates art through a variety of mediums.
Native to Massachusetts, he has lived in the Berkshires since 2007 after receiving his degree in classical music composition from Bates College in Maine. A man of many talents, Clarke was a writer of songs, short stories, and more recently, children's poetry.
These days Clarke continues to push his camera to the limit by creating photographs that more closely resemble pastel and charcoal drawings than traditional photography. By experimenting with light and color to create abstract images, he blurs the distinction between the different art forms he employs.
PORCH POP-UPS
Partnering with cultural attractions like Berkshire Theatre Group, Jacob's Pillow, Boston University Tanglewood Institute, Norman Rockwell Museum and Hancock Shaker Village, the entire region's summer entertainment comes to life on Stockbridge's Main Street.
Pop-up bars will be hosted throughout the summer for guests to gather and cool down. Each pop-up takes a different theme with complimentary tastings of wine, beer, and cocktails from 4:30pm-6:30pm on the following dates.
July 10: Guests can "Drink Pink on the Porch" with a sampling of rosés from around the world.
July 24: Canned cocktails, Lambrusco, Rosé, and ice-cold beer are some options for a casual night of canned beverages.
August 14: Crisp and refreshing, "Summer Whites" will include a variety of white wines with which to cool down at the end of the day.
August 28: Introducing "Chillable Reds," where wine lovers can find a new summer favorite with red wines served slightly chilled.
For more information and pop-up schedule of performances visit www.redlioninn.com.
Main Street Hospitality Group
Formed in 2013, Main Street Hospitality Group is a hotel management company founded originally at The Red Lion Inn in Stockbridge, Massachusetts, with a long tradition of excellence in preservation, innovation, sustainability and operations. As owners and operators of some of the most distinctive hotels in the Berkshires, the company's mission is to deliver unparalleled experiences for guests, employees and owners through an authentic approach to hospitality, service, and management. Main Street's management hotel portfolio includes The Red Lion Inn, Maple Glen at the Red Lion Inn, The Porches Inn at MASS MoCA, North Adams, MA, Hotel on North, Pittsfield, MA, The Briarcliff Motel, Great Barrington, MA, and Race Brook Lodge, Sheffield, an affiliated hotel. For more information, please visit www.mainstreethospitalitygroup.com or call 413-298-1610.