Sheffield, Mass. – On Sat., November 30th, join the Unifier Festival family & the HeARTbeat Collective as North Carolina's Arouna & Biko, members of Rising Appalachia, and I, Star, and Incus for a show in a truly unique and wonderful setting. Come for the show, stay at the Lodge, and enjoy a dinner on Saturday before the show, and breakfast on Sunday. Doors open at 6 pm, music starts at 7:30 pm. For tickets and more information, visit heartbeatcollective.org.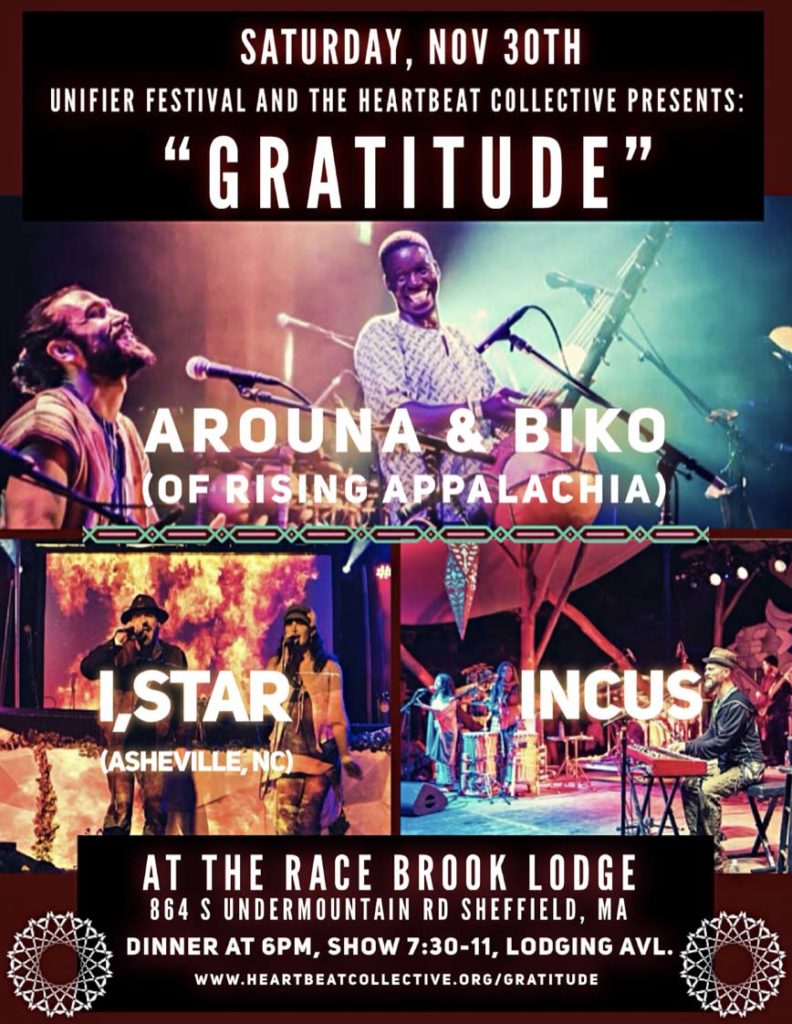 An alliance of brothers across bloodlines and generations. The meeting of cultures. A fusion of earthen instruments with mighty spirit and potent intention. Combining the masterful percussion of Biko Casini from Rising Appalachia and the majestic Ngoni and Balafon of Arouna Diarra, these two timeless souls and their band of master musicians have come together to create a musical tapestry, a weave of folk, world, and West African rhythms. arounabiko.bandcamp.com
Drawing on varying influences both musical and spiritual, Incus stands beyond simple definition in its musicality and style. Jason Cohen, the visionary force of the band, has been producing powerful healing and expressive arts gatherings with a focus on reverence for nature, and inspiring people through creativity, for many years. He is a big part of an exciting Land project at Camp Timber Trails in Tolland, Massachusetts, is the Director of a 501c3 "The HeARTbeat Collective", and curates New England's premier Summer Solstice event, Unifier Festival. His compositions are inspired by his work producing 35 Forestdance gatherings, which have taken place in 7 US states and 12 times in Costa Rica. Along with his accordion, he will be joined by Nash Atkins, Thomas Matherly, and Jed Blume, on guitar, bass, and tablas/percussion respectively. www.incus.net, www.UnifierFestival.com
From the heart of Appalachia, I,Star rises… Encompassing a core fusion of husband-wife duo, MC/poet Truth-I Manifest's potent lyrical flow, and singer/songwriter Aradhana Silvermoon's angelic melodies, I,Star's performances are a dynamic interplay of hard-hitting rhymes weaving through evocative refrains, building to harmonies in the hooks. istarvision.com
Race Brook Lodge is a hidden gem in The Berkshires, at the foot of Mt. Race and a short hike from the Appalachian Trail. A truly unique destination for relaxation, hiking, live events, workshops, weddings, and more, steeped in hundreds of years of New England history.