Stamford, Conn. – April 15 – William Pitt-Julia B. Fee Sotheby's International Realty, the premier luxury real estate firm serving Connecticut's Fairfield County, Litchfield County, Farmington Valley and Shoreline markets, Berkshire County, Mass., and Westchester County, N.Y., announced that it recently held its annual company networking event for over 1,000 agents company-wide. The theme was "Evolution," paying tribute to the company's position as a proven leader in innovation since 1949 even as new initiatives were unveiled.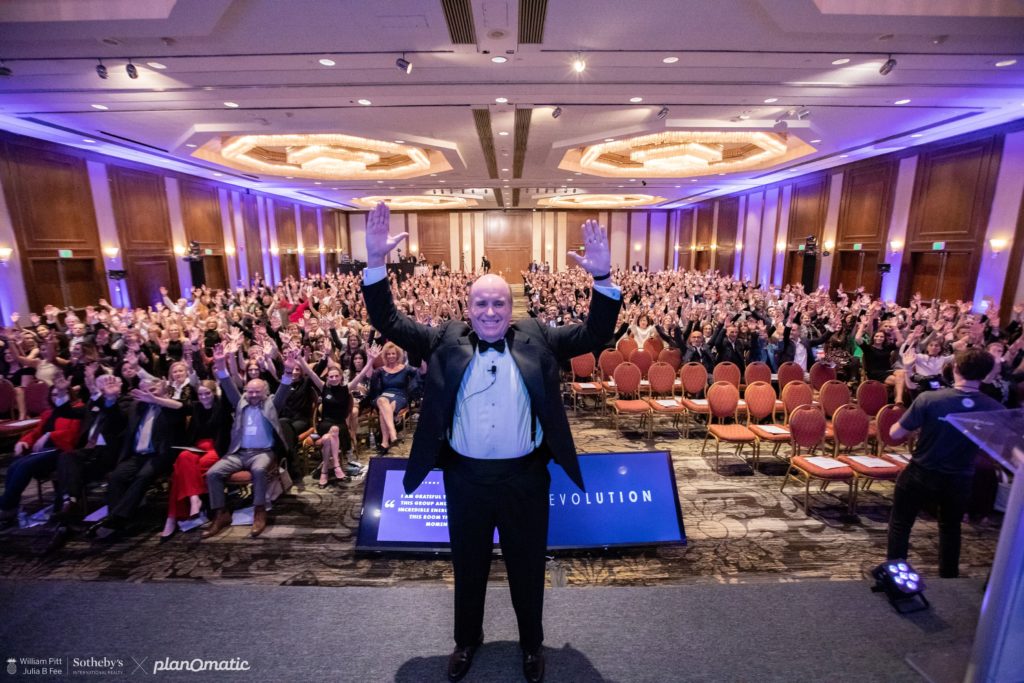 "Today, we celebrated our proven ability to adapt—to not only stay alive but to remain dominant. That's what the Evolution theme is all about," said Paul Breunich, President and CEO of William Pitt-Julia B. Fee Sotheby's International Realty. "In order to survive and thrive, we must adapt. That imperative is more urgent than ever in our industry, and it means constantly embracing new approaches and new technologies as agents and as a company."
Breunich was the first to take the stage, setting an optimistic tone when reflecting upon the company's recent successes and laying the foundation for an exciting and promising future. Vincent Socci, Chief Operating Officer, introduced the company's radically new tech platform in a live demo before introducing Eric Stegemann, CEO & Director of Strategy, TRIBUS. The company and TRIBUS together have worked to develop a fully integrative digital solution that seamlessly brings the company's best in class tools and products together into a single space.
"The technology that TRIBUS is bringing to our company is phenomenal," said Socci. "We searched hard for a platform that allows for the convenient connectivity of all the tools agents use to succeed, and we found it in the product that TRIBUS has created with us."
Isadora Badi, Vice President, Global Marketing, Sotheby's International Realty highlighted the brand's strategic marketing initiatives, while Carolyn Fugere, Vice President of Strategic Growth, hosted a panel of new and seasoned agents in a discussion centering on a revolutionary sales method demonstrated to increase agent production levels by as much as 30%. James Wong, CEO and Founder, MAXA Designs, followed with a demonstration of his company's product that the agents have taken in as their one-stop-shop for custom marketing materials.
Keynote speaker Mel Robbins, a CNN contributor and creator of The 5 Second Rule, closed the presentation with her simple strategy for achieving unimaginable success.
The day concluded with a cocktail reception, offering hors d'oeuvres, an open bar, frozen boat drinks, and a DJ.
Sponsors included platinum-level sponsor JPMorgan Chase & Co., gold sponsor The Wall Street Journal, silver sponsor PlanOmatic, bronze sponsor Sotheby's International Realty, cocktail party reception sponsor TRIBUS, red carpet sponsor Buyside, speaker sponsor The New York Times, interactive photo booth sponsor My Marketing Matters, dessert sponsor William Pitt-Julia B. Fee Insurance, as well as Vizzi Edberg, modernangles, W.B. Mason, Waterfront Branded Marketing Solutions and Exposure Media Group.
"Evolution" was held on April 10, 2019 at the Hilton Stamford, located at One First Stamford Place in Stamford, Conn.
About William Pitt-Julia B. Fee Sotheby's International Realty
Founded in 1949, William Pitt-Julia B. Fee Sotheby's International Realty manages a $4 billion portfolio with more than 1,000 sales associates in 27 brokerages spanning Connecticut, Massachusetts, and Westchester County, New York. William Pitt-Julia B. Fee Sotheby's International Realty is one of the largest Sotheby's International Realty(R) affiliates globally and the 37th-largest real estate company by sales volume in the United States. For more information, visit the website at williampitt.com.

Sotheby's International Realty's worldwide network includes 990 offices throughout 72 countries and territories on six continents.